For Sale, posted: 4 months ago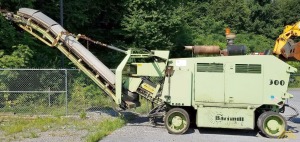 Bartmill, 300A
Price: $39,900
Harrisburg, Pennsylvania US,
Distance:
90 miles
4' Milling Head. 10" Cutting Depth. Front Loading Conveyor. Electronic Remote Sensors from Ground Control. Remote Slope and Depth Control. Water System. John Deere Diesel Engine. Rexroth Pumps.
---
Heavy Machinery Specifications, Charts, and Manuals are for *Reference Only* and are not to be used to operate any type of machinery. To obtain OEM Service, Parts & Maintenance Manuals, contact the equipment manufacturer directly.
Road Reclaimer Mixers
Road reclaimers pulverize the asphalt layer and mix it with the underlying base to stabilize deteriorated roadways. The reclaimers can add asphalt emulsions or other binding agents during pulverization or during a separate mix pass.