Categories
Compactors & Rollers-Soil, Asphalt

(3)

Earthmoving Equipment

(19)

Compactor Rollers

(2)

Excavators

(3)

Loaders

(9)

Skid Steer Loaders

(5)

Excavators & Dozers

(35)

Forestry & Logging Equipment

(2)

Industrial Support

(11)

Loaders, Skid Steers & Tractors

(14)

Parts, Attachments, Components, Manuals, & Accessories

(167)

Air Compressors

(3)

Boom Sections

(149)

Excavators

(1)

Grapples

(9)

Lubricants-Telescopic Boom

(4)

Lubricants-Wire Rope

(1)

Roadway Paving Equipment-Concrete, Asphalt

(3)

Compactor Rollers

(2)

Sweepers

(1)

Site Dumpers & Crawler Carriers

(4)

Transport Equipment - SPMT's -Trailers & Machinery Carts

(3)

Off Highway-Dump Trucks

(3)
Subcategories
Articulating

(3)

Compact-Mini

(9)

Crawler Track Mounted

(32)

Log

(3)

Long Reach

(1)

Portable

(11)

Rollers-Padfoot

(3)

Show All
Manufacturers
ASV

(5)

Allu

(1)

American

(23)

Bechem Lubrication Technology

(1)

Crosby

(1)

Fiatallis

(1)

Gardner Denver

(1)

Show All
Sellers
Atlantic Coast Cranes & Machinery, Inc. (ACC)

(11)

BC Equipment Sales Inc.

(85)

Barnard Equipment Company, Inc.

(1)

Center Resource

(2)

Certified Boom Repair Service NE

(9)

Cleveland Crane & Shovel Sales, Inc.

(38)

Cornell Crane & Equipment, LLC

(2)

Show All
Countries
United States

(259)

Canada

(2)
States
Arkansas

(1)

California

(6)

District of Columbia

(1)

Florida

(2)

Georgia

(2)

Louisiana

(4)

Massachusetts

(31)

Show All
Categories
Demolition Equipment

(57)

Demolition Machines

(9)

Excavators

(48)

Compactors & Rollers-Soil, Asphalt

(159)

Compactor Rollers

(158)

Loaders

(1)

Cranes, Hoists & Material Handlers

(66)

Pipe Layers

(56)

Soil Stabilizer

(10)

Drilling, Piling and Foundation Rigs

(63)

Casing Rotator

(27)

Concrete Boom Pumps

(33)

Soil Stabilizer

(3)

Earthmoving Equipment

(8781)

Backhoe Loaders

(498)

Compactor Rollers

(223)

Crawler Carriers

(45)

Dozers

(923)

Excavators

(3409)

Integrated Toolcarrier

(12)

Loaders

(1871)

Motor Graders

(492)

Scrapers

(217)

Site Dumpers

(189)

Skid Steer Loaders

(850)

Trenchers

(26)

Vibratory Plates

(26)

Excavators & Dozers

(251)

Dozers

(19)

Excavators

(232)

Forestry & Logging Equipment

(190)

Dozers

(2)

Excavators

(6)

Feller Bunchers

(26)

Forwarders

(39)

Harvesters

(52)

Loaders

(39)

Skid Steer Loaders

(1)

Skidders

(16)

Tractors

(1)

Trailers

(8)

Industrial Support

(129)

Air Compressors

(63)

Generator Sets

(16)

Light Towers

(45)

Utility Vehicles

(5)

Loaders, Skid Steers & Tractors

(51)

Backhoe Loaders

(16)

Excavators

(2)

Loaders

(25)

Skid Steer Loaders

(5)

Tractors

(3)

Material Plant Equipment-Concrete, Asphalt, Aggregate

(629)

Cone Crusher

(151)

Crushing Plants

(1)

Jaw Crusher

(130)

Mixing Plants

(78)

Mobile Impact Crushers

(88)

Mobile Stockpilers

(13)

Screening Plants

(168)

Mining Equipment & Machinery

(262)

Belt Shifters

(1)

Dozers

(2)

Excavators

(2)

Haulers

(6)

Loaders

(33)

Mining Shovel Excavators

(99)

Motor Graders

(1)

Off Highway-Dump Trucks

(117)

Off Highway-Ejector Trucks

(1)

Motor Graders & Scrapers

(1)

Parts, Attachments, Components, Manuals, & Accessories

(169)

Hammers

(11)

Augers

(3)

Backhoes

(4)

Cold Planers

(5)

Compactor Rollers

(1)

Concrete Crushers

(11)

Excavators

(55)

Grapples

(26)

Lubricants-Telescopic Boom

(1)

Lubricants-Wire Rope

(3)

Motor Graders

(28)

Padding Machines

(1)

Shears

(14)

Vibratory Plates

(6)

Platform Aerial Lift Devices & Bucket Trucks

(2)

Rail Equipment

(37)

Excavators

(31)

Loaders

(4)

Off Highway-Dump Trucks

(2)

Roadway Paving Equipment-Concrete, Asphalt

(1135)

Asphalt Patchers

(8)

Asphalt Pavers

(7)

Binder Spraying Machines

(2)

Cold Planers

(229)

Compactor Rollers

(639)

Material Feeders

(1)

Pavement Breakers

(14)

Pavers

(132)

Road Reclaimer Mixers

(10)

Screed Finishers

(34)

Sealcoat Machines

(7)

Slurry Seal Micro Pavers

(7)

Sweepers

(45)

Site Dumpers & Crawler Carriers

(24)

Crawler Carriers

(23)

Site Dumpers

(1)

Transport Equipment - SPMT's -Trailers & Machinery Carts

(1259)

All Terrain Vehicles

(9)

Dump Trucks

(1)

Haulers

(8)

Industrial Transporters

(2)

Mixer Trucks

(22)

Off Highway-Dump Trucks

(1030)

Off Highway-Ejector Trucks

(9)

Tanks

(43)

Tractors

(8)

Trailers

(122)

Water Sprinkler Trucks

(5)

Underground Equipment

(9)

Concrete Sprayer

(2)

Haulers

(3)

Tunneling Machines

(4)

Utility & Aerial Transmission Equipment

(1)

Puller Tensioner Reconductorer

(1)
Subcategories
3-Seat

(4)

6-Seat

(1)

Amphibious

(8)

Articulating

(817)

Asphalt

(94)

Bare Chassis

(5)

Bucket

(5)

Show All
Manufacturers
ACE (Action Construction Equipment)

(10)

ASV

(20)

AUSA

(5)

Aebi Schmidt Group

(1)

Ahlmann

(20)

Airman

(15)

Ajax Fiori

(9)

Show All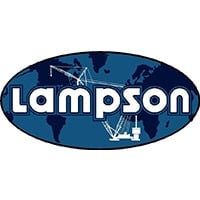 Lampson International
Location: 8820 State Hwy 35, Liverpool, TX, USA
How Close: 1217 miles
509-58...
Email this Company
Welcome to Lampson International Lampson International has been a worldwide leader in the Heavy Lift and Transport industry for over 70 years. Originally
(show more)...
Welcome to Lampson International
Lampson International has been a worldwide leader in the Heavy Lift and Transport industry for over 70 years. Originally started as a small drayage company, we quickly grew into one of the most innovative and respected providers of equipment and full-service rigging services in the United States and abroad. As a provider of cranes for construction companies, Lampson International provides unparalleled excellence in service across the country.
Lampson International is a single source for all your Heavy Lift and Transport needs; from conventional crane rentals to heavy lift and transport engineering, to the provision of extreme capacity lift and transport equipment, we provide it all. Lampson's decades of experience translates to unprecedented capabilities.
OUR SERVICES
A leader in the heavy lifting and transportation industry for over 70 years, Lampson International has gained the necessary expertise to help you deliver on your business needs. As a construction crane rental service, Lampson International provides quality services and reliable equipment to major cities across the country.
Engineering
Lampson International provides complete project and consulting engineering services for our Heavy Lift and Transport projects worldwide.
Conventional Crawler Crane Rental
Lampson International operates and maintains one of the largest crane rental fleets in the world. With over 350 individual pieces of equipment in the Lampson fleet, your project needs are easily and quickly accommodated.
Custom Rigging Equipment
Lampson International provides full-service Rigging Engineering to clients utilizing our equipment, as well as cost-effective solutions to complex rigging problems around the world.
Manufacturing
Lampson International maintains a fully equipped fabrication, assembly, remanufacture, finishing, and test facility at its headquarters in Washington State.
Heavy Lifting
Since the introduction of the first Transi-Lift®, Lampson International has continued to improve upon its original design. Transi-Lifts® are now available in several models ranging from 350 US tons to 3000 US tons.
Heavy Transportation
With years of experience both domestically and internationally, Lampson is well-versed in the logistics involved in oversized load transport in both urban and on-site locations.
20' & 30' Manitowoc #17 Lattice Boom Sections Available For Sale
Location: Pasco, WA, USA
Get a Shipping Quote
MANITOWOC #17 BOOM INSERTS
Fits the following Manitowoc models 3900T / 3900T Series 2 / 4000 / 4000W / 4000 RINGER
20 ft. and 30 ft. Sections are available.
Come to our yard to inspect or a virtual demo is available on Request.
---
1
vote
(You Gave 0 Stars)
Price On Request
Financing
---
Need Help With Financing?
Get Started Now
EQUIPMENT FINANCING BUSINESS LOANS WORKING CAPITAL
Contact Seller
---
Tony Cornwell


---
Peter Lampson


---
Shipping Quote
---