For Sale, posted: 4 months ago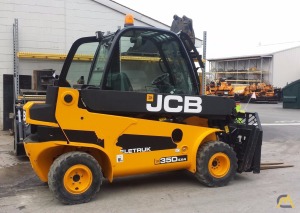 JCB, TLT35D
Price: $62,500
Harrisburg, Pennsylvania US,
Distance:
90 miles
JCB TLT35D4X4. Lift capacity of 7,700 pounds and lift height of 14 feet 2 inches. Equipped with 4WD, Forks, and Safety Beacons. Side Shifting Carriage. JCB's telescopic forklift design helps you save time and money, especially, because the long reach enables single side truck loading, ...
---
Teletruck
Versatile Teletrucks features extended forward reach capacity allowing quick and convenient unloading or loading of flatbed trucks from one side. Extended forward reach for loading and unloading trucks from one side and ability to reach over obstacles and the telescopic boom design provides excellent forward visibility.
The powerful engine is coupled with a hydrostatic transmission providing torque converter response (TCR) which reacts to commands just like the transmissions you are used to working with.
The small dimensions and turning radius of these units make them ideal for work in close quarters-indoor or outdoor.
Teletruk can be more than just a forklift. With our light material bucket attachment, the unit becomes a small loader. With a hopper bucket system, the loading of aggregate is a quick one-machine, one-person operation.