Al-jon Advantage 525 Search
Al-jon Advantage 525 Specifications
The Al-Jon Advantage 525 Landfill Compactor features a 24 volt Electrical system with master disconnect. Minimum 100 amp alternator. 4 maintenance free heavy duty batteries rated...
Show More
Location
Meridian, Idaho US
2026 miles
Make
Al-jon
Model
Advantage 525
Year
2010
$70,000 USD
by Western States CAT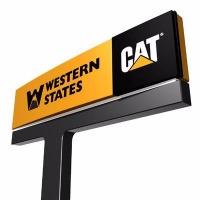 AL-JON 525 LANDFILL COMPACTOR CP COMPETE EROPS - CAB W/ HEAT & AIR JOHN DEERE DIESEL ENGINE MACHINE ID# E0013878 STRAIT BLADE W/ TRASH RACK
The Al-Jon Advantage 525 Landfill Compactor features a 24 volt Electrical system with master disconnect. Minimum 100 amp alternator. 4 maintenance free heavy duty batteries rated at 922 CCA each. OSHA approved all-wheel hydromatic braking without brake pedals or exposed brake lines. Independent Spring-Applied-Hydraulic-Release parking/emergency brakes engage automatically if there is a loss in hydraulic pressure. Dependable all-wheel hydrostatic drive. No torque converter, no clutch, no differentials or axle shafts. Easy component replacement means less downtime when repairs are needed.
The engines are powerful, efficient 15.2 liter/540 gross h.p. CAT or 13.5 liter/525 gross h.p. John Deere engines. 4 speeds forward, 4 speeds reverse to 5.2 mph (0 to 8 km/h) Extra heavy duty steel construction and sealed undercarriage produce a compactor perfectly suited for use in rugged landfill conditions. No service components are located under the machine so opening "belly pans" are not required.
Choice of 15 ft. 3 in. (465 cm) wide Straight, Semi-U or Full-U blades with full-width, see-through trash screens. Wiper blades are available for special applications.

Exclusive "Wire or Cable Wrap Structure Warranty" provides free care or replacement of wheel and planetary components damaged by wire or debris trapped in the axle area.

Standard warranty includes extended power train and extended coverage.

Standard 48 in. (121.9 cm) wide wheels with 8 in. (20.3 cm) tall cleats provide long wear life. Cleats are arranged to provide efficient traction and demolition without material plugging or the need for supplemental cleaner bars. 2 in. (5.1 cm) thick outer drums provide extended wheel wear life. "Coneless" I-Beam wheel design eliminates wear-prone inside wheel side walls.

Closed loop hydrostatic drive system for each wheel with 10 micron filtration. Hydraulic circuit includes 5 micron return filtration. Oversized radiator, oil cooler and charge air cooler with slide-out prescreens for easy access and cleaning. Auto-reverse hydraulic cooling fan is standard.

Options include automatic fire suppression, central automatic lubrication system, quick engine oil change system, fast fuel system, rear vision camera and motor system and cruise control (throttle lock).

MC400 electronic controller continuously calibrates speed and steering functions and monitors critical operating systems. The result is effortless steering and increased component wear life.

Easy-to-read illuminated analog gauges include engine oil pressure, coolant temperature, volt meter, fuel level and tachometer. MC400 electronic display screen monitors engine oil pressure, engine coolant temperature, engine speed (RPM), engine % load, run hours, battery voltage, boost pressure and transmission oil temperature. The MC400 screen also alerts the operator if potentially damaging operating conditions exist. Fault codes are available when system switches to diagnostic mode.

Large 2-door cab offers operator visibility and comfort. Standard joystick steering and blade controls. Climate controls include heater/defroster, filtered fresh air intake system and 40, 000 BTU front-mounted air conditioning system. Fully-adjustable seat. Rear vision camera and color monitor in cab are standard.
WEIGHT
107, 000 pounds (48, 534 kg) with standard 48 in. (122 cm) wide M-Trax Diamond wheels and straight blade.
The Advantage 525 is the heaviest compactor in its class.
DIMENSIONS
Overall length: 30 ft. 4 in. (9245 mm)
Overall width and wheels: 14 ft. 5 in. (4394 mm)
Overall height and ROPS: 13 ft. (3960 mm)
Wheelbase: 12 ft. (3658 mm)
Turning Radius (inside): 10 ft. 6 in. (3200 mm)
Ground Clearance at Center Joint: 28 in. (760 mm)
Articulation: +/- 35 degrees
Oscillation: +/-6.0 degrees
CAPACITIES
Fuel: 205 gallons (776 liters)
Hydraulic Oil Main Tank: 70 gallons (264 liters)
Hydraulic Oil Reserve Tank: 70 gallons (264 liters)
Engine Coolant: 19 gallons (71 liters)
Engine Oil: 10 gallons (34 liters)
FILTRATION and COOLING:
Hydraulic system features 100 mesh screened inlet filtration, 5 micron return line filtration and independent 10 micron filtration for each individual wheel circuit. Cooling components are oversized all aluminum construction and feature in-line tubes with 6.5 cooling fins per inch for superior performance in dusty landfill conditions. Corrugated and perforated pre-screens pull out for easy maintenance.
DRIVE:
Hydrostatic drive, with each wheel driven by its own independent system, consisting of PCcontrolled variable displacement pump, motor and planetary reduction final drive.
SPEED:
4 Speeds Forward,
4 Speeds Reverse.
0 to 5.2 mph (0 to 8.4 km/hr)
GAUGES:
Illuminated, analog style gauges display engine oil pressure, engine coolant temperature, fuel level, and tachometer.
MC400 ELECTRONIC CONTROL SYSTEM:
Continuously calibrates all four wheels with the angle of the center joint to improve steering, reduce component wear and increase operator comfort. The MC400 monitors all critical components and alerts the operator via digital display and/or alarm and shuts down the machine when potentially damaging conditions exist.
CAB:
Ergonomically-designed, insulated and sound suppressed.
ROPS/FOPS certified.
Six-way adjustable air ride seat, adjustable head rest and 3 inch wide seat belt.
Joystick steering with horn button.
Joystick blade control with blade (raise, lower, float), speed selector, and directional controls.
Illuminated analog style gauges, digital display screen and warning indicators.
40, 000 BTU front and rear A/C system with directional vents.
30, 000 BTU front and rear Heat/Defrost system.
Filtered fresh air intake.
AM/FM radio/CD, MP3 port, four speaker stereo.
Integrated CB antenna.
Rear vision camera with full color display.
Four exterior West Coast Mirrors.
Four front and rear, two side Halogen exterior lights.
Front and rear wiper/washer (intermittent front wiper).
Two 12V DC accessory.
4 cup holders, 2 coat hooks and Dome light.
Brakes:
OSHA-approved, all-wheel hydrodynamic braking. Independent spring-applied, hydraulic-realease fail-safe parking/emergency brakes on front wheels.
FRAME:
Extra heavy box beam construction with 1 ½ inch (38mm) flanges and 1 inch (25mm) thick webs. Center joint with 4 inch (101mm) thick rear tangs and one 2 inch (50mm) and three 1 ½ inch (38mm) thick front tangs.
ELECTRICAL SYSTEM:
24 volt electrical system with four maintenance free, heavy duty 925CCA batteries. Cat engine has a 95 AMP and John Deere engine has a 140 AMP Alternator.
ENGINE:
Caterpillar® C15 ACERT™: 15.2 liter/540 gross horsepower - OR - John Deere® 6135H PowerTech Plus™: 13.5 liter/550 gross horsepower
These turbo-charged and after-cooled six cylinder diesel engines meet current Tier 3/Stage IIIA emissions regulations. Direct injection fuel system with adjustment-free injection pumps and valves. 1500 watt engine block heater. 24 volt direct electric starting with ether starting aid. Dual, dry-type, two-stage air cleaner. Pressure lubrication with full-flow filtered oil and heat exchange oil cooler. Al-jon hydraulic, auto-reverse cooling fan ("ARC") is standard.